Good Value and Economy
The Brother sewing machine has had a home sewing market presence since 1908. And today, if you ask most people who like to sew, they know about Brother machines.
Founded in Japan, the Brother company later expanded its product line, to include office and telecommunications products.
Brother, because of its interest in high tech products, has included some nice features in its sewing machines, including some that are usually found in more expensive models.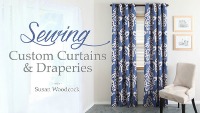 Get Your Custom Curtains and Drapes Video Course Now
Why would you want to make your own curtains or drapes? For starters, you can choose the fabrics for your curtains, to complement your furnishings and the theme of your room. Your curtains and drapes will be well made and will hang nicely. And, last but not least, you will have high quality window dressings for the fraction of the cost of custom made window furnishings. This video course tells you how…
Entry Level Brother Sewing Machine
Embroidery Brother Sewing Machine
Quilting Brother Sewing Machine
Computerized Brother Sewing Machine
Brother Sergers
 What Sets the Brother Sewing Machine Apart?
Some of the most recent innovations in Brothers' machines include:
a number of versatile built-in functions.
user friendly sewing machines
beginner sewing machines
advanced sewing machines for sophisticated users
large work spaces for quilters
shadow-free lighting – seems like a small feature, but it's really important when you are sewing!
Brother International Corporation, in addition to its sewing machine line, now manufactures and markets a number of industrial products, home appliances and business products.
Brother XL-3750 Sewing Machine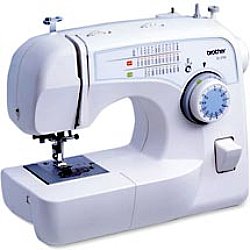 One of the reasons that many people like these machines is because they are quite reasonably priced. You may not get the same quality as a Janome or Elna, but you do get some very nice features.
And, whether you are a beginning sewer, an occasional seamstress or you just use your machine for crafts–one of these machines might just be your cup of tea!
While not in business as long as some of the other sewing machine companies, Brother has developed some interesting products.
If you are shopping for a sewing machine, make sure you check out a Brother Machine.
Get Your Video Course on Making Jelly Roll Quilts
Isn't it great that you can buy precut fabrics for making quilts? But, sometimes it's hard to get motivated, because you just don't know what to do with the fabric you just bought! Kimberly Einmo to the rescue! Kimberly will show you in this suberb video course, how to make a number of really cool quilts, using jelly rolls. She'll also show you how to do invisible and contrasting thread appliques and give you some ideas on how to use those leftover pieces! Sign up now for this fun video course on making jelly roll quilts…