Good Value in the Brother ES2000
The Brother ES2000 is a lightweight, hard-working value in Brother sewing machines, and it will bring your sewing into the twenty first century.
The great price of the ES2000 makes this computerized sewing machine a real bargain for free arm sewing needs.
The Brother ES 2000 has 77 stitch functions and a wide array of included accessories that stretch its value even further.
This 5 lesson video course will walk you through everything from threading your machine and winding the bobbins–to troubleshooting and maintenance. View the videos anytime or anywhere. Just don't miss out. Sign up for your FREE course now!
The lightweight dimensions of this line of Brother sewing machines make it ideal for sewing on the go, or in small spaces.
The Brother ES-2000 runs quietly, making it ideal for completing your sewing and craft projects, minor quilting, or home décor–when you don't have a soundproof sewing room.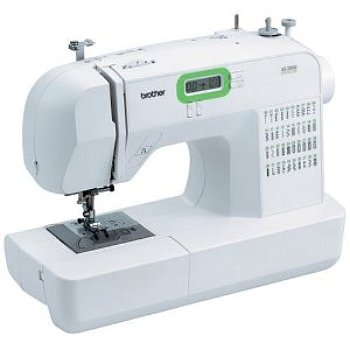 Shop safely at Amazon and enjoy free shipping if you spend $25 or more.
A Computerized Sewing Machine
At An Entry-Level Price
Beginners and veterans alike will enjoy the luxury features of even the modestly-priced Brother sewing machines.
If you're a beginner, the Brother ES2000 is a friendly introduction to using a computerized sewing machine.
If you're an experienced stitcher who's been sewing on a mechanical, basic, or vintage sewing machine, the user-friendliness of this sewing machine will win you over to modern machines in no time.
Automatic needle threader – save your eyesight
Built-in thread cutter – no need to reach for the scissors
Convertible free arm sewing – put this machine to use hemming pants and sleeves
Super-bright LED-lit workspace – save your eyesight (again!)
Quick-loading top drop-in bobbin – just drop it in and start sewing
Clear plastic snap-on presser feet – see what you're doing and use the right foot for the job with the wide array of included specialty presser feet
While the price point of the ES-2000 is attractive enough to lure a beginning seamstress into taking a chance on a computerized sewing machine, the features on the Brother ES2000 will impress even veteran stitchers.
77 built-in stitch functions
Automatic, one-step built-in buttonholer
21 built-in decorative stitches
9 built-in heirloom stitches
Extra-wide 7mm upper limit on stitch length and width
Variable needle positions
Brother Sewing Machines
Great Value But Can Be Finicky
The Brother ES-2000 suffers from a common ailment in low-end Brother machines–the thread tension can be extremely picky. Use the right needle for the weight of your fabric, quality thread, and the right type of bobbin for the machine and you'll alleviate many of these complaints.
The Brother ES2000 is lightweight and sews quietly, so you can take it with you to classes or sew while watching TV. But the lighter weight can make the machine "walk" at high speeds.
And while you can use this machine to piece and bind quilts at a quilting class, it has no quilting stitches–you'll need to topstitch your quilts with another machine if you want decorative stitching.
This computerized sewing machine can work with heavier fabric weights, but you'll need to use care. Rushing your heavyweight project can make the machine choke, possibly affecting its alignment and timing, which will lead to the need to repair it. At this price, repairing the machine might set you back most of its original cost.
Brother ES2000
Lots of Features for the Money!
The Brother ES2000 is a great entry-level machine that will meet your needs well past those first few projects.
This computerized sewing machine has enough features for free arm sewing, light quilting, and crafting or home décor projects. With care, you'll find it well worth the attractive price.
You can now purchase the Brother ES2000 at Amazon.
Check out these computerized sewing machines: