Top Value
For Beginners, Quilters and More…
The Brother XL-3750 is a good value mechanical machine that can be used for quilting, garment construction or crafts.
This Brother quilting sewing machine comes with a variety of stitches and quilting functions that make this free-arm Brother sewing machine an nice choice for a first sewing machine.
This 5 lesson video course will walk you through everything from threading your machine and winding the bobbins–to troubleshooting and maintenance. View the videos anytime or anywhere. Just don't miss out. Sign up for your FREE course now!
The automatic needle threader, smooth and quiet operation, and variety of built in stitches push this Brother quilting machine beyond the limit of basic machine quilting.
And the budget pricing of this model puts it within almost anyone's budget!
Brother XL3750 Mechanical Sewing Machine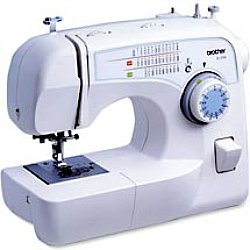 Shop safely at Amazon and enjoy free shipping if you spend $25 or more.
Features of the Brother XL-3750
Brother machines are consistent in offering surprising luxuries at decent prices, and the Brother XL-3750 is a stellar example of this.
You don't often find an automatic needle threader and a one-step automatic buttonholer in a mechanical sewing machine—-but still priced to attract buyers looking for a first sewing machine.
And this Brother quilting sewing machine is surprisingly lightweight, at only 12 lbs. However, the extra-wide table keeps it stable enough for basic machine quilting work.
Even though this machine is plastic, it is sturdy and reliable. So, while the 3750 might not be able to take an industrial beating, it can certainly handle free arm sewing and machine quilt construction.
Sewing Advantages
Of the Brother XL-3750
You'll be surprised, as I was, to see the features included in the Brother XL-3750:
35 built in stitches
73 built in stitch functions
Utility, decorative, heirloom, and stretch stitches
Automatic needle threader
Drop-in bobbin system
Automatic bobbin winding
One-step buttonholer
Free arm and double-needle capabilities
Numerous presser feet and sewing notions included
Quilt with the Brother XL-3740
While this is a mechanical sewing machine, with no fancy computer functions, it has some nice features for simple quilting:
Extra large flatbed
Stitch width and length control
Quilting bar and rolling foot presser foot attachments included
Built in variety of quilting stitches
Frustrations with the
Brother XL-3750
As with other models of Brother sewing machine, the thread tension on the The Brother XL-3750 can be touchy. Users without experience (or patience) with adjusting the thread tension, may find it troublesome to use this Brother quilting sewing machine.
Experienced reviewers, however, report success with trial and error, using scrap material and a light hand, and lots of patience.
Experienced owners also emphasize the importance of using the proper needles for different types and weights of fabric. (You should properly size your needles for any sewing project, anyway.)
Some owners feel the machine's compact size makes the throat size a challenge for handling large quilts, but others feel that this is an easy thing to get around and the lightweight, relatively quiet running and sweet price point make an acceptable tradeoff.
Some reviewers reported defective operation of the thread tension dial. But, given the Brother XL-3750's value pricing, you would commonly pay more for a mechanical sewing machine repair (on another machine) than you will pay for the Brother XL-3750 free arm model itself.
Conclusion about the XL-3750
Most reviewers are happy with the Brother XL-3750–the price is fantastic, given the free arm sewing features, and the capabilities that push this Brother machine far past basic machine quilting.
This Brother quilting machine would make an excellent gift for a quilter with sewing needs—and it's priced right for a first sewing machine.
You can Purchase the Brother XL-3750 from Amazon with Free Shipping!
Check out these mechanical sewing machines: