White sewing machines came into existence, in 1858, when Thomas White started making small, hand operated, single thread sewing machines, in a machine shop in Templeton, Massachusetts.
By the 1950s, the company was mass producing its sewing machines and had incorporated the popular new zigzag stitch and its first open arm machine into their designs.
Here's How to Sew and Have a Perfect Fit
Whether you are starting a wedding alteration business or sewing for yourself, this video course by Lynda Maynard will help you get the perfect fit for every single garment that you make or alter. You'll learn how to work with individual body differences and how to make each garment fit the way you want it to. Sign up now for this priceless video course…
The 1960s brought the introduction of the White Fair Lady, with its built in handle – It was White's most popular sewing machine.
And the White ESP 4000 was White's first computer model, and it was introduced in the late 1970s.
Antique White Rotary Sewing Machine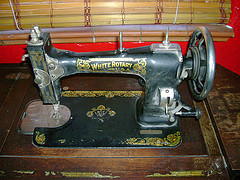 Perhaps the most notable White contribution to the home sewing market was White's introduction of the Superlock 534 in the 1980s.
It was the first overlock sewing machine that was designed for the home sewer.
You might be interested in reviews of these White sewing machines:
The Superlock offered a number of features:
3 or 4 thread capability
numbered tension dials
recessed cutting system
accessory feet for blind hems, and for sewing elastic, piping, or pearl sequins
By the end of the 1980s, the successful Superlock included such features as 10 second threading, a tension release lever and accessible, swing away cutting blades.
White has continued its successful Superlock line, and today you will find such favorites as the White Superlock 2900 and the Speedylock 1600.
In the 1980s, White was acquired by Electrolux, along with Husqvarna Viking. Today, what used to be known as the White Sewing Machine Company, is part of the same company as Pfaff, Singer and Husqvarna Viking – the VSM Group.
While White sewing machines have maintained some of their individual characteristics, some of their sewing machine parts are inter-changeable with the other sewing machines in the group — making it easier to get service or find parts, if you need them!
Linda Lee, fashion designer, will show you how to handle knit fabrics so that your finished garments look spectacular! You'll learn how to prepare your fabric, finish seams and edges, stabilize shoulders and necklines, and troubleshoot for puckering, curling, slipped stitches and more. Don't miss out on this fun video course that will help you master working with knits. Sign up now for the Sewing Fashion Knits course with Linda….