Great for Everyday Sewing!
The Janome HD1000 is made of cast aluminum, like sewing machines used to be. And it sews beautifully on heavy duty projects, as well as finer fabrics like silk or rayon.
The HD100's free arm also makes it perfect for some difficult projects like hemming sleeves or pants' legs and sewing cuffs and clothes for young children. With 14 built in stitches for utility type sewing, this is a machine that will do most general sewing and crafts.
Make Bras that Fit and Support You!
Did you know that there are people whose profession is "fitting bras"? That's because it's such a difficult task to find a bra that fits you and feels good and looks good! How many bras do you have in your drawer right now that you bought and then abandoned, because they just didn't fit? Well, you can fix that right now! This video course will show you how to measure, fit and make your own bras. And not just ugly ones that fit! Pretty lacy bras, sexy bras, cute ones and very personal ones. Don't wear another mis-fitting bra again. Sign up now for this fantastic life-saving video course on how to make your own bras…
Janome machines have a strong presence in the market, and rightly so! They are made to last and they can do many specific sewing tasks easily and consistently well. This budget priced machine includes 14 built-in popular utility stitches, several pressure feet for special tasks like inserting zippers, hemming, or making buttonholes, and a free arm for sewing difficult areas.
This is a heavy duty machine, but it's not too heavy for most people to carry, weighing in at just 23 pounds.
Photo of the Janome HD1000
from Amazon.
Janome HD1000 Features and Accessories
Unlike many other economy priced sewing machines, the Janome HD1000 has an automatic needle threader, a great time saver (especially nice if you're over 40 and starting to need glasses for reading).
Another nice feature is the snap-on presser feet. With this machine, you won't have to feel like a mechanic when you change the presser feet. In addition, the extra high presser foot lift makes it possible to sew through multiple layers of fabric, easily. Sewing, I might add, at the speed of 840 stitches per minute!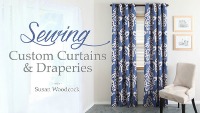 Get Your Custom Curtains and Drapes Video Course Now
Why would you want to make your own curtains or drapes? For starters, you can choose the fabrics for your curtains, to complement your furnishings and the theme of your room. Your curtains and drapes will be well made and will hang nicely. And, last but not least, you will have high quality window dressings for the fraction of the cost of custom made window furnishings. This video course tells you how…
What Janome HD1000 Owners Say…
Where other machines rated as "heavy duty" seem to disappoint in terms of longevity or performance, the Janome does not. It sings through upholstery and other heavy fabrics without issue.
Despite the fact that this workhorse gets the job done, it only weighs 23 pounds, making it very portable for sewing classes or quilting bees.
Some of the other features that buyers commented on, were the built in ruler (rather unique) and a built in thread cutter. No more scissors – all you need is one hand!
On the negative side, some owners don't like the front load bobbin, which is a bit awkward, and the short foot pedal cord makes it necessary to be close to an electrical outlet.
All considered, the overall solid performance of the Janome HD1000 sewing machine and the budget price of just under $300, make this machine quite appealing to many seamstresses.
You can learn more about this machine or purchase the Janome HD1000 at Amazon.
You might also like: