Beginners and Heavy Users
Will Love the Janome Threadbanger TB12
The Janome Threadbanger TB12 is a no-nonsense heavy duty mechanical sewing machine that lives up to its name.
The Janome TB12 has a cast aluminum construction that will have you stitching alongside hardcore DIY-ers in no time.
The Janome Threadbanger TB12 is based on a former model of Janome sewing machine whose sturdy, simple design was so popular with customers, that Janome updated it and brought it back.
FREE Video Course on Inserting Zippers
Ever have trouble getting your zippers to look just right? If you work hard on a project, you want every detail to look good–including the zipper. This video course will help you master the techniques of sewing zippers. Now you'll never have to be ashamed of your zipper sewing again! Sign up for this FREE video course on zippers now…
Janome sewing machines are known for their high quality, and users familiar with them might recognize that Janome is a partner company to Bernina, who manufactures mid-range models for high-end fashion industry.
Janome Threadbanger Sewing Machine is available at Overstock
With only 12 stitches available, the Janome Thread banger works as a beginner or first sewing machine, in addition to being a hard working second machine for experienced sewers.
You could take this model to your college dorm, and the solid construction and workhorse capability also make it a great candidate for the sewing machine you take to design school, if that is your career choice.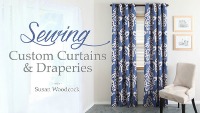 Get Your Custom Curtains and Drapes Video Course Now
Why would you want to make your own curtains or drapes? For starters, you can choose the fabrics for your curtains, to complement your furnishings and the theme of your room. Your curtains and drapes will be well made and will hang nicely. And, last but not least, you will have high quality window dressings for the fraction of the cost of custom made window furnishings. This video course tells you how…
Janome Threadbanger TB12 Advantages
Stitches – In addition to having a choice of 12 stitches (including stretch and zig-zag), this Janome sewing machine includes a 4-step buttonholer.
Portable – The built-in carrying handle suggests the Janome Thread banger falls into a portable class of beginner sewing machines, but at nearly 17 lbs, it's no featherweight. However, while it probably won't be carried easily by a child, most adults can lift it without too much trouble. If you find it too heavy to carry around, you might want to give this free-arm workhorse a permanent workstation of its own.
Stability – The weight of the TB12 also serves to keep it from "walking" while you are sewing. That's important, as this machine can stitch up to 840 stitches per minute.
The extra-high presser foot lifts and powerful feed dog system on the free-arm sewing base let this machine chew through heavier fabrics and multiple layers without chewing the fabric itself.
Built-in thread cutter
This is a pretty sewing machine. The front panel has stylish modern graphics and dials for selecting stitch styles and lengths.
Limitations of the
Janome Threadbanger TB12
Like nearly every other modern mechanical sewing machine, there are some plastic parts in this one. Even though it is designed to be like a former Janome machine, the days of all metal parts are long gone.
This is not a fancy, expensive sewing machine. That having been said, it does not have little luxuries like an automatic needle threader or decorative stitches.
One drawback to owning any mechanical sewing machine is that you have to oil it. If you need to hire someone else to do that, your hidden costs in maintenance make your economy machine more expensive in the long-run.
However, this is not a problem with the Janome Threadbanger TB12. The sewing machine manual includes instructions for cleaning and oiling the machine yourself.
Like many machines, the Thread Banger can have some lint buildup. If you routinely brush it to remove the lint, this should not be a big problem for you, and your machine should continue to run smoothly.
While simple and sturdy in its features, the Janome Threadbanger TB12 has charmed many a sewing reviewer.  The Janome TB12 is built to last, and will appeal to the no-nonsense DIYer that favors a mechanical sewing machine that can take serious use.
You can purchase the Janome Threadbanger TB12 sewing machine at Overstock
.
Check out these popular entry level sewing machines:
You might also like: