Best Machines for Kids
Childrens sewing machines serve two purposes. A kids first sewing machine can be a toy or a learning tool, and that depends mostly on the age of the child.
If you are buying a sewing machine for a 4 year old, your choice will be much different from the machine that you buy for a 9 year old. A child who is 6 or younger should have a toy sewing machine that she will use to pretend-sew, and develop the desire for real sewing.
When your child is ready, physically and mentally, to learn to sew, he can use a basic, but real sewing machine, with supervision.
FREE Beginner Sewing Video Course!
This 5 lesson video course will walk you through everything from threading your machine and winding the bobbins–to troubleshooting and maintenance. View the videos anytime or anywhere. Just don't miss out. Sign up for your FREE course now!
I learned to sew at the age of 8, and I know that many of you, as well, learned when you were very young.
Choose your child's first sewing machine carefully, and she will have many years of sewing pleasure! (You'll find lots of links to reviews, below.)
The Janome 3125 is an example
of a possible kids' sewing machine.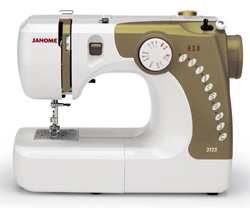 Shop safely at Amazon and enjoy free shipping if you spend $25 or more.
Choosing Childrens Sewing Machines
Young children don't have the hand-eye coordination or fine motor coordination that an adult has, so they will have more difficulty handling some tasks.
Here are some thoughts to keep in mind when you are choosing one of the childrens sewing machines on the market:
Speed Control – If the sewing machine can go slow, learning will be much easier and safer. Your child must be in control in order to gain confidence and skills—and to be safe.As your child gets better at sewing, she will want to go faster. If the machine can go a little faster, it will help your child advance and keep his interest.
Ease of Operation – For learning, a basic machine that is simple to operate is best. Mechanical machines, instead of the more complicated computerized machines, are the simplest. Choose a basic machine with straight stitches and zig zag. Save the bells and whistles for your child's next machine.
A good instruction book is great, but, if you or another experienced sewer will be teaching your child, that's even better.
Uncomplicated project – Choose a very basic project that appeals to children so your child will experience success and will be interested in completing the project. There are a number of books written for children who are learning to sew.
Sturdy – Look for a sewing machine made from sturdy materials. Some machines are still made with metals. Others may be plastic, but they are made from quality, tough plastics. Also examine the moving parts—this may be even more important. You want to have the machine stand up to use and abuse. Children are not physically able to handle machines as carefully as you do.
Consider a used sewing machine – You can often get good value by purchasing a better quality used machine than an inferior quality new machine. And you'll save money, to boot!
Mini Sewing Machines– Some companies sell mini sewing machines that are perfect for childrens' sewing machines. They are basic sewing machines, and they perform as well as any larger sewing machine, but they are ¾ size and perfect for small hands to learn on.
You have a number of childrens sewing machines to choose from. Here are some reviews to help you:
Mini Sewing Machines as Childrens Sewing Machines
Brother Sewing Machines
Janome Sewing Machines
Singer Sewing Machines
Other Brands