A Real Sewing Machine – Not a Toy!
The Janome Sew Mini, made to the high Janome standards we have come to expect, is the only REAL sewing machine in its mini sewing machine class.
Weighing only 5 pounds, the little mini machine can be easily carried on trips, to classes, or to quilting bees.
Unlike the pretend mini sewing machines on the market, the Janome ¾ size mini can be used for simple projects like crafts, scrapbooking, curtains or for piecing quilts.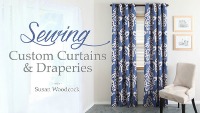 Get Your Custom Curtains and Drapes Video Course Now
Why would you want to make your own curtains or drapes? For starters, you can choose the fabrics for your curtains, to complement your furnishings and the theme of your room. Your curtains and drapes will be well made and will hang nicely. And, last but not least, you will have high quality window dressings for the fraction of the cost of custom made window furnishings. This video course tells you how…
The Janome Sew Mini can do straight stitching, zigzagging stitches in 3 widths, go backwards and even do buttonholes. And the stitches are of a good quality.
Janome Sew Mini Sewing Machine
Shop safely at Amazon and enjoy free shipping
if you spend $35 or more.
Reviewers indicate that the manual, with its step-by-step graphics, is helpful when learning to use the machine.
And using the machine is straightforward, not confusing or complicated – a criticism that owners make, of most of the other mini sewing machines on the market.
FREE Beginner Sewing Video Course!
This 5 lesson video course will walk you through everything from threading your machine and winding the bobbins–to troubleshooting and maintenance. View the videos anytime or anywhere. Just don't miss out. Sign up for your FREE course now!
Positive Features of the Janome Sew Mini
The Janome Sew Mini can be a good sewing machine for beginners or for children. However, it is also a good choice for an experienced sewer who just wants a small machine for mending, for simple craft or home projects, for traveling, or to take to classes.
Here are some of the reasons that this cute little machine is popular:
Easy to carry – even for a child!
Choice of straight stitch (4 lengths) or zigzag (3 widths) – most minis just do a simple straight stitch in 1 length.
Can do a reverse stitch – a complaint with other mini sewing machines. Without the ability to reverse, other mini machines have loose stitches that easily come apart (unless you tie the ends together).
Instruction book included – a complaint common with other minis.
Drop in bobbin – a feature found in newer, full scale sewing machines.
4 point feed dog system keeps the fabric moving straight.
The sewing machine doesn't move around or vibrate – despite its small size.
Sturdy and well built.
Can sew up to 5 layers of light weight cloth.
No problems with thread tension or bobbin thread jams.
Sews over straight pins with ease
Limitations of the Janome Sew Mini
Most people like this little Janome sewing machine, somewhat, if not totally. Of course, nothing is perfect, and mini sewing machines do have their limitations.
Here are the most common complaints:
There is no built in light, making it hard to see when threading a needle or sewing. You'll need to provide another source of light.
It does not have a lid or case for travelling or going to class. They can be purchased separately.
You can't remove the built in pressure foot.
It can't handle heavy fabrics – like leather or 12 layers of denim.
No seam allowance markings on the throat plate.
No thread cutter
The Janome Sew Mini is as close as you can get to a full size sewing machine. It has many of the fine features and qualities of full sized Janome machines, and the negatives are fairly minor.
This Janome Sew Mini Sewing Machine
is a great little machine for a beginner or child, especially because it sews slowly.
And it also would serve as a terrific portable sewing machine for simple projects or mending for an experienced sewer. If you're looking for a portable sewing machine, don't overlook this little gem. It's a great deal at around $70, and it comes with a 25 year warranty!
Check out these mini sewing machines: