While a mini sewing machine might not have all the features of a larger machine, it does have its place! Usually about ¾ the size of its bigger sisters, a mini model is light weight, smaller and very portable.
That makes it easier to take to sewing classes, quilting bees, craft groups or on a trip when you travel.
In addition, a mini machine might be the best choice as a first sewing machine for you or one of your children.
FREE Beginner Sewing Video Course!
This 5 lesson video course will walk you through everything from threading your machine and winding the bobbins–to troubleshooting and maintenance. View the videos anytime or anywhere. Just don't miss out. Sign up for your FREE course now!
A mini sewing machine is usually pretty basic, often simple to understand, easy to learn on, and it can be carried by anyone, even a younger child.
I'll give you some examples of smaller machines, to give you an idea of what you can expect from one of these sewing machines:
Janome 3125 Mini Sewing Machine
The Janome 3125 comes with 6 stitches, a built in buttonholer, snamp-on feet, a free arm for sewing tight spaces like cuffs and collars, and a 4 point feed dog that helps keep your fabric straight when you are sewing.
The Janome 3125 mini sewing machine weighs just 11 pounds and it has a handle, so it can easily be moved from room to room, or placed in a storage area.
Janome 3125 Mini Sewing Machine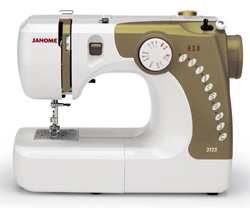 Shop safely at Amazon and enjoy free shipping if you spend $35 or more.
Made of high impact resin, the Janome 3125 mini sewing machine can take a beating if you plan to take this with you on outings. The Janome 3125 comes with a 10 year warranty on parts and is still readily available.
Keep in mind that these little sewing machines are somewhat limited if you plan on doing a lot of sewing, or if you are not a beginner.
Kenmore's Model 11206 Mini Sewing Machine
This little sewing machine packs more wallop than you might expect. If you only sew occasionally, and you have limited space for storage, you might be interested in this one.
Owners of the Kenmore 11206 consistently report that this mini sewing machine is able to handle most projects that don't require fancy stitching. And that includes sewing heavier fabrics, something that many minis just can't do.
Kenmore 11206 Mini Sewing Machine
Shop safely at Amazon and enjoy free shipping if you spend $35 or more.
The Kenmore 11206 is able to sew 550 stitches per minute—slow enough for beginners to learn on, but fast enough for more experienced sewers to be happy.
It includes a four-step buttonholer, a soft dust cover, and a darning plate that can be used for mending, quilting or free hand embroidery.
That's quite a package for such a little machine. Even though it's small enough to be stored in a drawer, it's quite capable of completing many projects, from sewing costumes to simple quilts.
If you are looking for a mini sewing machine for your apartment or dorm room, or you are teaching your child to sew, this mini sewing machine might just be what you need.
Make Your Own Nursery Decor Items
Whether you are sewing for your kids or grandkids or you have a crafts sewing business, you'll find this video series to be a great help when decorating the nursery or sewing for your business. You'll also learn some great techniques that you can use when making garments and other projects, as well. Get in on the fun now and sign up for Vanessa Williams' nursery design course now…
You might be interested in these compact sewing machine reviews: