Learning How to Sew Curtains is a Simple Task!
Learning how to sew curtains, even for beginners, is not hard. You don't have to learn fancy stitches, as you will only be using a simple straight stitch to make the seams in your curtains.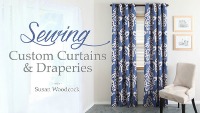 Get Your Custom Curtains and Drapes Video Course Now
Why would you want to learn how to sew curtains or drapes? For starters, you can choose the fabrics for your curtains, to complement your furnishings and the theme of your room. Your curtains and drapes will be well made and will hang nicely. And, last but not least, you will have high quality window dressings for the fraction of the cost of custom made window furnishings. This video course tells you how…
Simply click

on the text link below the

picture

or on the picture for more information on how to sew curtains…
The most difficult thing that you will need to do is measure. If you can add, subtract and read a ruler, then you can do the necessary math to make curtains that fit your windows. It is simply a matter of following directions carefully. And then double checking your numbers.
Since I am very visual, I always do a sketch of my windows on paper, with my window measurements written on the windows. This helps me make sure that I have the right numbers.
You can learn how to sew curtains like these elegant ones, using only a straight stitch.
Making curtains and window treatments is really easy, and anyone can do it. The collection of the best books available on how to sew curtains and window treatments, above, will help you get started.  And the video course will make it even easier!
These articles may also be of interest to you:
Sew Smarter Video Course with Professional Techniques
Whether you are just starting to sew or you are an advanced sewer, this video course by Katrina Walker will give you tons of great tricks and tips to help your sewing be more professional. She'll show you how to work with different types of fabrics, with zippers and on curves and corners. Sign up for this great video course today…