Easy Projects to Make for Your Home
DIY Home Decor books are an inexpensive way to get ideas and directions to make home furnishings for your home. You may or may not pay more for a pattern book, but you will definitely get many more patterns and ideas from a book, than an individual pattern packet.
And often you have the advantage of learning from some of the best sewers and quilters, in addition to the best designers in the field.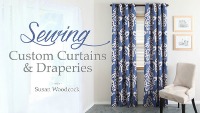 Get Your Custom Curtains and Drapes Video Course Now
Why would you want to make your own curtains or drapes? For starters, you can choose the fabrics for your curtains, to complement your furnishings and the theme of your room. Your curtains and drapes will be well made and will hang nicely. And, last but not least, you will have high quality window dressings for the fraction of the cost of custom made window furnishings. This video course tells you how…
Simply click on the text link or on the picture to see more info on the DIY Home Decor Books:




Happy Home: Twenty-One Sewing and Craft Projects to Pretty Up Your Home

Pillows, dog beds and more – a variety of colorful projects.




Martha Stewart's Encyclopedia of Sewing and Fabric Crafts: Basic Techniques for Sewing, Applique, Embroidery, Quilting, Dyeing, and Printing, plus 150 Inspired Projects from A to Z

Includes many useful home decor projects such as: curtains, bed linens, napkins, placemats and upholstery.




Nursery Decor for Beginners

Good step-by-step guide for making nursery decor.




Skinny Quilts And Table Runners: From Today's Top Designers

Not just for tables — numerous techniques shown for 15 unique projects.




Sew Pretty Homestyle

Over 35 designs including many decoration pieces for your own home




The Ultimate Sewing Book: Over 200 Sewing Ideas for You and Your Home

Numerious home furnishings projects make up over half of The Ultimate Sewing Book.




The New Complete Guide to Sewing: Step-by-Step Techniques for Making Clothes and Home Accessories Updated Edition with All-New Projects and Simplicity Patterns (Reader's Digest)

Great reference book for the beginning sewer.




Home Decor Sewing 101: A Beginner's Guide to Sewing for the Home

Includes 20 home decor projects, including valances, window coverings, placemats and more…




Sew Merry and Bright: 20 Easy, Fun, and Festive Patterns

Colorful home decor and gift ideas for Christmas.
So what are some of the easy ways to start decorating your home? There are simple projects for every room in your house. You might start with pot holders, placemats, table runners, decorative napkins, appliqued tea towels, curtains, decorated bath towels, wall hangings, pillows, lap quilts or any other simple and smallish project.
Homemade pillows one of the easy projects
found in DIY home decor books.

Making your own home furnishings is about more than saving money. You have the opportunity to completely personalize your home, with decorations that reflect your taste and that of your family.
For example, country home décor is quite popular. And yet, when you look for furnishings for your rustic or country home, you don't find a very good selection.
But, if you made your own furnishings, using simple diy home decor books, you could add pine trees, moose, deer, bears, apples, fruit, vegetables, etc. You can use motifs, whether in the fabric or appliqued, of the things that you love best, to adorn your home.
Make sure you consider some fun home décor crafts for your home. And the DIY home decor books above can help you get started…
These articles can take you a step above the DIY home decor books above: