Swiss Precision
The Bernina sewing machine, Swiss built, with a legacy of quality, remains one of the leaders in well-built sewing machines.
Reviewers of the Swiss made machines consistently give high marks to the quality innovations of these fine machines.
Named after Piz Bernina, a mountain in the Swiss Alps, Bernina is a Swiss company that was started in 1890 by Karl Friedrich Gegauf.
Gegauf's first invention was a monogram embroidery machine that he used to establish a small embroidery business.
Bernina 105 Sewing Machine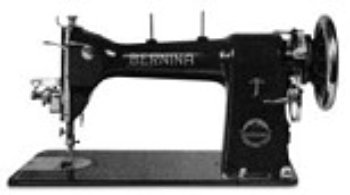 Gegauf was an inventor at heart, and, two of his inventions, having nothing to do with sewing machines. However they are interesting just the same–the pennyfarthing bicycle and the Daimler Benz motor car (You might know it as a Mercedes.)
This, of course, might be a selling point if you are trying to convince your husband or wife that Bernina makes quality machines.
Popular embroidery machines by Bernina:
Other popular Bernina models:
History of the Bernina Machines
Over the years Bernina had a number of sewing machine lines:
1932 – The first Bernina domestic sewing machine was developed—on the principal of quality—which would remain the company's policy.
1954 – 530 Class – In addition to the usual Bernina qualities, this line offered new decorative stitches and a button-hole device.
1971 to 1981 – 830 Class – This line of Bernina machines was its all-time top selling group.
1986 – Bernina 1130 – This is the first Bernia electronic sewing machine, and it simplified many sewing functions, including having a fully automatic buttonhole device.2003 – Introduction of the Bernina Artista generation of machines. This line has a color touch screen, access to the internet and is the first sewing system that is driven by Microsoft Windows CE.
Bernina has earned a reputation for having top quality sewing machines. If you are in the market for a sewing machine, make sure you check out their line of sewing machines.