Bernina Deco Models 330 and 340
The Bernina deco series includes the Deco 330 and the Bernette 340 Deco.
While the 330 had some great features, the Bernina Deco 340 has some additional features, like a USB port, that make it even more advanced!
Ever have a great idea that you want to embroider, but you don't know how to take it further and get your sewing machine to embroider your design? Cookie Gaynor, in this well-done video course on digitizing machine embroidery designs, will make it easy for you. She'll show you how to use your manual, how digitizing works and even give you some designs to play with. If you're creative, don't miss this great video course!
Sign up now for Cookie's digitizing video course…
While most reviewers love their Deco 330s, the most common complaint is that, while instructions for downloading designs are given in the manual, they still had difficulty because the instructions are difficult to follow.
Bernina Deco 330
Reviewers love the speed (650 stitches per minute) and the quality of the embroidered pieces that they produce on the Bernina Deco 330. This Bernina sewing machine has a user friendly touch screen that lets you edit your design on the screen and you can also use drag and drop.
Bernina Deco 330 Embroidery Machine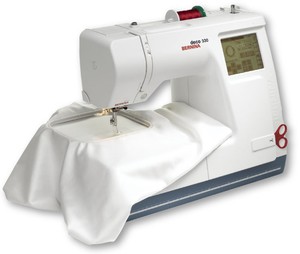 The Bernina Deco 330 also has an easy threading system and a thread monitoring system. And it has 3 pre-programmed alphabets and 2 monogram styles.
There are 50 built in embroidery designs, and you can purchase hundreds more (although they are a bit pricey).
Unfortunately the 330 does not have a USB transfer capability, but the Bernina Deco 340 does. And the 330 does not cut color change threads.
Probably the greatest complaint about this embroidery sewing machine is that the users under utilized their machines. Most reviews were quite positive, and most sewers felt that they still had room to grow into their machines!
Bernina Deco 340
Bernina Bernette 340 Deco Embroidery Sewing Machine
This Bernina embroidery sewing machine has all that the Deco 330 has—and more. Here are some of the features that you will find:
100 built in embroidery designs – but that's just the beginning. The 340 has a USB port and you can use USB sticks and embroidery cards to increase your options for embroidery designs.
Drag and Drop – You can move and change the position of designs by the touch of a finger. Great for sewers who have limited computer skills!
Free arm – Not only can you sew tubular items like sleeves and pants legs, with this (and the optional embroidery hoop), you can embroider tubular items!
Automatic thread cutter – the thread cutter automatically cuts both the top and bottom threads at the end of each thread color or when you press a button. This is a recently added feature.
Time display – This is a cool feature. Before you start to embroider, the screen shows you the total stitching time for each design that you have displayed. And…while you are embroidering, the screen shows you how much time is left!
 Thread color indicator – on the screen. You can select one of four thread manufacturers, and the built in chart converts colors into specific threads for you.
So, with the high quality of Bernina sewing machines, with either of these two machines, you can't go wrong. The only caveat is that it will be easier to download designs if you are a bit computer savy.
But, the directions are in the instruction manual, and Bernina is known for their customer backup and service. I would not hesitate to buy either of these Bernina Deco sewing machines.
Embroidery expert Lisa Shaw will give you great tips and hints on how to use even a 4″x4″ hoop to get fantastic results with your embroidery sewing machine! Lisa is also great at time-saving tips and, if you are the least bit creative, you are going to LOVE this video course! Take advantage of this opportunity now…