Only for Beginners!
The Kenmore 15358 is a basic entry level sewing machine that could be used by a beginning sewer, but it is not a good choice for someone who has intermediate or advanced skills.
The 15358 is not a heavy duty machine, and its best uses are for occasional crafts, mending or scrapbooking. In other words, if you sew a lot, this machine is not for you!
FREE Beginner Sewing Video Course!
This 5 lesson video course will walk you through everything from threading your machine and winding the bobbins–to troubleshooting and maintenance. View the videos anytime or anywhere. Just don't miss out. Sign up for your FREE course now!
Reviewers agree that this reasonably priced Kenmore sewing machine is just fine for beginners who will use the machine lightly.
But, if you intend to use your new sewing machine for quilting, heavy fabrics like denim or fake fur, or you sew every day, you would do well to look further for another, heavier duty sewing machine.
Sears Kenmore 15358 Sewing Machine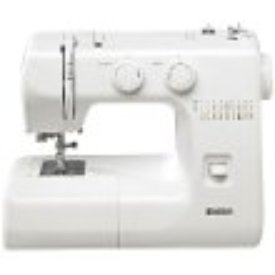 What Owners Like about the Kenmore 15358
Here are the positive features that reviewers cited about this sewing machine:
The Sears 15358 has a good manual – Even people who have never used a sewing machine find the manual easy to read and use.
Beginners find it easy to get the machine set up and to get started – This is a real plus if you are just learning to sew. Sewing needs to be fun and easy for someone to want to continue!
Of course no machine is perfect, and there is always a downside. That's also true for the 15358.
Negatives of the Kenmore 15358
Reviewers are pretty much in agreement about the things that they don't like about this Sears sewing machine:
Thread bunching is a problem – This is the problem most often mentioned in reviews. It is most likely to happen when you go fast. If you are a beginner and go slowly, you may not have a problem with bunching.
Short motor life – Those who used the sewing machine more frequently complained of this. The machine is not able to handle volume sewing. No matter how cheaply you bought the machine, if the motor dies, it just isn't a bargain!
Couldn't handle heavy fabrics – Users reported that the machine can only handle lighter fabrics—not heavier fabrics like denim.
Needles break frequently
While the Sears 15358 sewing machine may be OK for beginners who are learning to sew, it does not have the capability to sew heavier fabrics, go fast or handle volume sewing. Thus, if you are looking for a simple sewing machine to do heavy or volume work, look further. This truly is just for beginners!
These machines are popular as a first sewing machine: