Babylock – Synonymous with Quality
Baby Lock sergers are a line of overlock sewing machines, ranging from entry level Babylock sergers to professional grade Baby Lock machines.  They are made by the Baby Lock Company and sold through retailers only.
Baby Lock is a company known for designing serger machines that are compact and easy to use.  As the name suggests, serger stitches are a specialized type of stitch that finishes the edge of a garment or seam.
Using overlock stitches adds a professional touch to the finished edges and seams of your garments and crafts.
Baby Lock Sergers are High Quality Sergers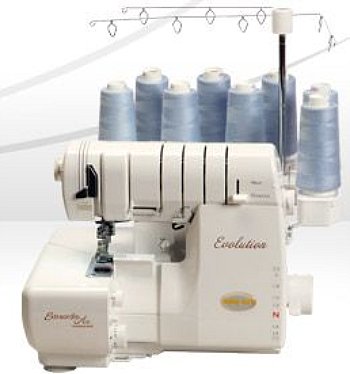 Baby Lock manufactures several different models of Babylock sergers, and they have different levels of function and ease of use.
If you work with knits, are frustrated with raveling seams, or are ready to take your garments to the next level, you'll find a model in the Baby Lock sergers collection that's perfect for you.
Entry Level Baby Lock Sergers
If you are looking for your first serger, the Imagine model takes up little space, and virtually threads itself, using Baby Lock's patented Jet Air Threading System ™.
And the Eclipse FX serger is lightweight and very portable. The Eclipse FX uses the Babylock patented Easy Glide Thread System ™ to quickly and easily thread the machine and get you sewing fast.
Learn How to Serge Video Course
You'll learn the basic stitches, the decorative stitches and what to do with all those feet! Learn how to serge, while you make three easy projects–a zipper bag, a ruffled apron and a striped knit scarf. Amy Alan will walk you through the steps for each.
Sign up for this fun video course here.
 Baby Lock Sergers for
Intermediate Level Users
Machines intended for intermediate users also feature easy threading systems and serger stitches in two, three, or four-thread designs.
The Imagine Wave Babylock serger is an upgrade to the beginner Imagine serger model. It has added functions, including a lovely wave stitch to give your garments a uniquely professional look.
However, the Lauren series of Baby Lock sergers is the most popular.
Top of the Line Models
Baby Lock's top of the line serger focuses on the hardcore serger machine user. If you own a home-based business, or if your garment construction projects are your abiding passion, you'll be most interested in this Babylock serger.
The Evolve series of Babylock sergers is the luxury model of sergers and has everything the lover of serger stitches could want–from an ExtraordinAir Threading ™ system to the exclusive wave stitch.
The truly amazing feature of this machine is its ability to use up to eight threads at one time for a nearly limitless combination of professional-looking seams and finishes.
Unraveling at the Seams
Users and reviewers are nearly universal in their love for their Babylock sergers.
However, if you are a tailor, crafter or sewer who likes the ability to rip out and re-stitch your garment construction seams, serger seams might not be for you.
Many of the Baby Lock models perform their serger sewing functions with the blade that trims the seam as you stitch. This makes letting out seams to resize or custom-fit garments very difficult.
If you frequently let out seams to achieve a custom-fitted garment, for weddings or proms for example, a serger might not be the right choice for your business.
BabyLock Sergers are well-designed machines, suitable for finishing seams and the fabric edges of garments or crafts.
And the Baby Lock name is synonymous with serger quality. If you are looking to complete your sewing workshop with a serger, there's a Babylock serger machine out there, just for you.
These sergers are popular also: