Designed for Serious Quilting!
The Pfaff Grand Quilter is a machine designed for serious quilters.
Capable of 1600 stitches per minute, the Pfaff Grand Quilter has all the features necessary for home or small business use. Despite its extraordinary speed, the Grand Quilter delightfully buzzes along quietly, with no vibrations and no walking!
Get Your Video Course on Making Jelly Roll Quilts
Isn't it great that you can buy precut fabrics for making quilts? But, sometimes it's hard to get motivated, because you just don't know what to do with the fabric you just bought! Kimberly Einmo to the rescue! Kimberly will show you in this suberb video course, how to make a number of really cool quilts, using jelly rolls. She'll also show you how to do invisible and contrasting thread appliques and give you some ideas on how to use those leftover pieces! Sign up now for this fun video course on making jelly roll quilts…
The Pfaff Grand Quilter 1200 is the more likely choice for serious home crafters, while, if you are considering a quilting business, the more commercial choice would be the Pfaff 18.8 GrandQuilter.
Pfaff Grand Quilter 1200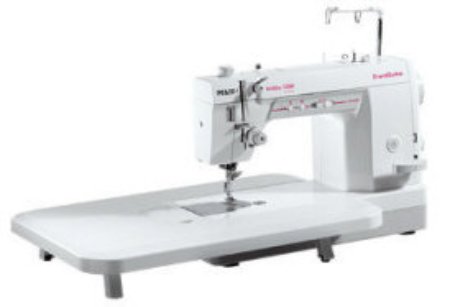 Using the Pfaff 18.8 with an Imperial Quilt Frame by Inspira adds a dimension not seen by other quilting machines on the market. By doing so, your work area becomes huge – that is, in addition to the space between the needle and the arm of the machine being 18".
Pfaff Grand Quilter 18.8 Quilting Machine
Professional longarm quilter Mandy Leins will give your great ideas to help you improve your long arm quilting skills. She even gives you tips on how to reduce fatigue, a problem when you are working on larger projects. Join Mandy for a fun filled course on long arm quilting that will be inspirational for even experienced quilters. Sign up now for Mandy's free video course and quilting patterns…
Features of the Pfaff Grand Quilter
The Pfaff Grand Quilter has features that set it apart from most other quilting sewing machines:
Speed – The Pfaff Grand Quilter races along at 1600 stitches per minute; however, if you have a really tricky area to sew, you can adjust the speed so that it crawls along slowly. The machine has an easy-to-use slide control for speed. In fact, the Pfaff hobby 1200 is even faster than the popular Juki TL-98Q.
Large working area – a quilter's dream, it has the space that you need, to work efficiently with bulky quilts and comforters.
Removable extension table – lets you work on projects other than quilts, and it also works well for free motion quilting.
Automatic tension – No more frustrating sessions, trying to get the tension "just right"!
Knee lift – Keep your hands free to work on your project and use the knee lift to control the presser foot.
Thread cutting – Saves time. Just push the little button with the picture of scissors on it.
Bobbin winding – uses a separate motor. You can wind the bobbin even while you are sewing!
Automatic needle threader
Because the Pfaff Grand Quilter only sews a straight stitch, it is not the best choice for someone who has elaborate craft or clothing projects in mind.
But, the Pfaff Grand Quilter has great features for sewers who are seriously into making quilts. With either the Pfaff 1200 or the Pfaff 18.8, you could easily set up a small commercial operation making quilts, comforters or draperies.
Or just enjoy making lots of quilted projects for fun!
If you are looking for serious quilting sewing machines, don't overlook the Pfaff Grand quilter.
Check out these quilting machines: