Bernina Embroidery Machine
The Bernina Happy Voyager embroidery machine is suitable for frequent home use or for light commercial embroidery.
Built to be marginally portable, this embroidery sewing machine could be taken to flea markets or craft shows, for on-the-spot custom embroidery. The machine does weigh 88 pounds, so it's not a sewing machine that you would carry to classes.
Ever have a great idea that you want to embroider, but you don't know how to take it further and get your sewing machine to embroider your design? Cookie Gaynor, in this well-done video course on digitizing machine embroidery designs, will make it easy for you. She'll show you how to use your manual, how digitizing works and even give you some designs to play with. If you're creative, don't miss this great video course!
Sign up now for Cookie's digitizing video course…
The Bernina Happy Voyager is surprisingly quiet for a commercial embroidery machine, and it takes up very little space, with a small footprint of 11" x 17".
The unit practically runs itself with built-in designs, automatic color change and automatic thread trimmers.
You can purchase specialized hoops for the Bernina Happy Voyager sewing machine at Amazon.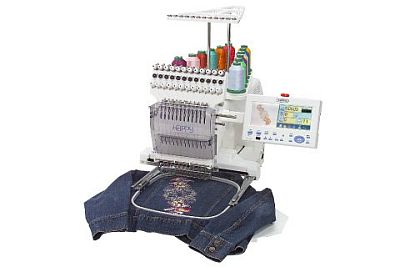 Bernina Happy Voyager embroidery machine
Because it is lighter duty than some commercial models, I would classify this embroidery machine as Bernina industrial light.
Bernina Happy Voyager Features
Hoop size – The Bernina Happy Voyager boasts a 12" x 12" hooping area, allowing you to do nice sized projects. With this machine you can embroider larger items like golf bags, luggage, horse blankets, etc.The Voyager also has a small free arm that is suitable for embroidering on rounded areas like sleeves and pant legs—without having to rip the seams and re-sew them. The photo above shows the large hooping area.With these accessory hoops , you can embroider a number of hard-to-embroider items, like small kids' clothing, wine bags, gloves, golf club covers, socks, pant legs, shirt sleeves, pockets, oven mitts and even boots!
Built-in bobbin winder – The Happy Voyager has a built in bobbin winder, so that you don't have to stop the machine to wind a bobbin. In addition, if you prefer, you can purchase pre-wound bobbins, as well.
Bernina Happy Voyager Bobbin Winder
Needles and threads – Equipped with 12 needles and 12 threads, you can usually complete a project in one operation, without stopping, trimming and changing thread colors. The thread trimmer keeps the embroidered area clean and saves time that would be spent trimming the project later.Some reviewers said that they have had trouble with needles breaking on this Bernina Happy Voyager machine.

12 threads and 12 needles

Speed – Built for commercial use, the Voyager speeds along at 1000 stitches per minute. This allows you to fill orders while customers wait–or while they shop at a flea market or craft show.
Designs for your embroidery – The machine has 2 USB communication ports that allow you to transfer and load designs directly into the machine's memory. Each machine comes with Happy Link software, which conducts the transfer.In addition, you can use Bernina embroidery cards for designs, giving you many more motifs to choose from.

Bernina Happy Voyager embroidery flash cards

Optional Attachments – There are a number of commercial grade attachments like hoops and clamping equipment>. The most popular seems to be the cap attachment.A few people have had trouble getting the stitches tight on embroidered caps. They are tight on the sides, but loose in the middle (front of cap). Most people love the attachment and many use it commercially.

Bernina Happy Voyager cap attachment

Perhaps the greatest complaint about this Bernina Happy Voyager sewing machine was that, while this is an entry level commercial sewing machine, the manual was difficult to follow and there is a learning curve–as there is with most new businesses.I don't see this as a drawback, as the Voyager has so many positive features that make the time spent learning to operate the machine worthwhile!

As your business grows, you may find that you prefer a more heavy duty machine. But, this is a great machine to purchase for a beginning business, and it's perfect for running a small embroidery business from your home.

The Bernina Happy Voyager embroidery machine is a well constructed machine, and it should last for many years of regular use. The Voyager retails for around $9500.
Check out these embroidery sewing machines:
Embroidery expert Lisa Shaw will give you great tips and hints on how to use even a 4″x4″ hoop to get fantastic results with your embroidery sewing machine! Lisa is also great at time-saving tips and, if you are the least bit creative, you are going to LOVE this video course! Take advantage of this opportunity now…