Affordable Home Based
Business Opportunity
The machine quilting business is an affordable home based business opportunity, especially so, if you get started with your current sewing machine and you work from your home.
There are a number of directions that you can take this business, and they are only limited by your imagination and creative ideas.
In this video course, master quilter Eleanor Burns will teach your her signature quilting techniques and tricks on how to make your quilting projects go faster. A must if you have a quilting craft business or make lots of quilted projects as gifts for friends and family. Don't miss out on this exciting quilting course. Sign up today for Eleanor's fun quilting course…
A quilting business is also a quick-start business. The most time-consuming part will be doing the research and getting the business organized.
Simply click on the text link below the picture or on the picture for more information
However, if you decide to purchase a long arm quilting machine, you'll also need to order the equipment and set up your work area when it arrives.
Starting your sewing business in a dedicated room of your home, will save money and keep your life simple.
 A heavy duty long arm is often used in a machine quilting business.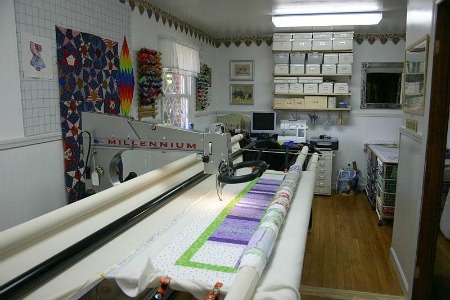 Machine Quilting Business Plan
So, what are some of the things you will have to know and do to get started? A business plan is simply a way to organize your goals and your to-dos. It will help you stay on track and stay focused. If you have a plan to achieve your goals, and you follow it, you will be successful.
In addition, If you decide to borrow money to get your machine quilting business going, you will need to show the lender your business plan.
Legalities – The most boring part, but necessary. What, if anything, do you need to do in your community, to make your business legal? What legal form will your business take? (sole proprietorship, partnership, corporation)
Financing – Whether you need funding or not, depends on your start-up costs and equipment and supplies purchases. You can keep costs to a minimum if you use resources that you already have. Financing is available for purchasing commercial machines, if you think you need one now.
Business Knowledge – Learning the trade from

someone

who has actually had a business will help you more than just learning general business principles (although they certainly help).
Marketing – You need to know who your customers are and how you will reach them with your machine quilting

business marketing

.
Product development – You need to know what kinds of quilts people want, what they buy and how much they are willing to pay for what they buy. This will help you design new products that will appeal to your customers. Of course, you'll want to test the market, before making a lot of an item that is new to your business.



Machine Quilting Business Ideas

Of course you'll command the largest price for custom made quilts that are made to fit beds.

However, there are so many more items that you can make and quilt to sell. For example, specialty wall quilts, pot holders, table runners, jackets, vests, purses, pillows and totes—just to get you started.

If you purchase a long arm quilting machine, you can do finish quilting for others. If you have a lot of quilters in your area, this income stream could become significant.

In addition to deciding what kind of products you'll offer, you need to decide how you will sell your products. Will you sell them locally, from your home, at a farmer's market or craft shows, home parties, or will you sell products online?

Setting up your machine quilting business can be a lot of fun. And, if you do your homework, your machine quilting business will be much more than a hobby for you. It will be a steady stream of income for you and your family.
Make Travel Organizers for Gifts or Craft Business
You can make travel organizers quickly and they are a popular item at craft shows or home parties. Just about anyone can use them. With pattern designer Annie Unrein's projects and tips on finishing, you'll have a nice selection of very marketable travel products. Sign up for Annie's class now…
Start Your Own Business Articles: