Quilting Sewing Machine
The Elna 7200, a computerized quilting sewing machine similar to the Janome 6500, has many positive reviews by quilters who like the performance and features of this versatile Elna sewing machine.
Even though the Elna 7200 has the ability to do beautiful alphabet letters in both block and script, the most people who use this sewing machine are quilters, who use it heavily for their many projects.
Take Free Motion Quilting to the Next Level!
This video course by Patsy Thompson is for quilters who have some experience. Patsy will share her signature hyperquilting technique and show you how to incorporate trapunto into your projects. This excellent video course will definitely take your quilting to another level and you will be producing outstanding and very creative projects that are out of this world beautiful! Sign up for Patsy's free motion quilting course now…
Sold only at dealers, the Elna line has earned a reputation over the years, that is hard to beat. Elna sewing machines are high-end machines, on par with Janome and Bernina higher-end models.
Elna-7200 Quilting Sewing Machine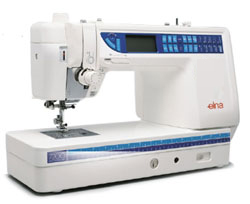 Features of the Elna 7200
Here are some of the features that make this Elna 7200 sewing machine a favorite of many:
128 interesting stitches – utility, quilting, cross stitch, heirloom stitches, and 7 styles of buttonhole stitches.For really big openings you can use the 4 step classic or bound buttonhole. Some reviewers mentioned that they especially like the buttonhole applique stitch, a feature that the Janome 6500 does not have.
Large LCD screen – The screen has an adjustable back light. The screen tells you the recommended foot, stitch width and length. And it shows you both the mirror image and face to face. In addition, it even shows you what your stitch will look like—before you try it out.
Heirloom stitches – These are neat. You can choose from Point de Paris, Turkish or Venetian, etc. Your quilts will have a really custom high-end look.
Knee lifter – This allows you to raise or lower the presser foot. It can be used to pivot corners, sew free hand embroidery or piece patchwork. This is one of the features that quilters appreciate most.

Knee lifter for the Elna 7200

Separate bobbin winder – a real time saver when you are in the midst of a project!
One complaint that is fairly common for both the Elna 7200 and Janome 6500 is that the machines do have some problems with small areas of paint chipping.
Most reviewers loved their quilting machines and so were willing to put up with this minor inconvenience. A little clear nail polish should keep the problem from getting any worse.
Elna machines can be hard to find. Sometimes you can find a good deal on Craigslist, and there are usually some machines available on Ebay.
Get Your Video Course on Making Jelly Roll Quilts
Isn't it great that you can buy precut fabrics for making quilts? But, sometimes it's hard to get motivated, because you just don't know what to do with the fabric you just bought! Kimberly Einmo to the rescue! Kimberly will show you in this suberb video course, how to make a number of really cool quilts, using jelly rolls. She'll also show you how to do invisible and contrasting thread appliques and give you some ideas on how to use those leftover pieces! Sign up now for this fun video course on making jelly roll quilts…
Other popular quilting sewing machines: