Does the Singer 7469 Deliver?
The Singer 7469 computerized sewing machine has a number of features popular with quilters; however, this model is not always reliable, and may require expensive repairs.
However, the jury is still out on the Singer 7469 quilting sewing machine, as some owners do love it, while others have found it to be a great disappointment.  That may be evidence that Singer is no longer producing the fine quality machines that made them popular.
Get Your Video Course on Making Jelly Roll Quilts
Isn't it great that you can buy precut fabrics for making quilts? But, sometimes it's hard to get motivated, because you just don't know what to do with the fabric you just bought! Kimberly Einmo to the rescue! Kimberly will show you in this suberb video course, how to make a number of really cool quilts, using jelly rolls. She'll also show you how to do invisible and contrasting thread appliques and give you some ideas on how to use those leftover pieces! Sign up now for this fun video course on making jelly roll quilts…
The Singer 7469 might be fine for occasional quilters or home sewers who do not cause excessive wear to their machines, but serious quilters, or those in business, would probably be happier with a more expensive sewing machine that is heavy duty and built for rugged use.
On the surface, this model has a lot of attractive features, but the quality of the machine and the delivery of those features is questionable.
The Singer 7469 
is available (Free Shipping) at Amazon.
Quilting Features of the Singer 7469
At first glance, the Singer 7469 quilting machine has a huge number of features for the quilter. So, what are those features and how do they actually work?
Large extension quilting table – I love this feature. The table is a nice size and certainly does prevent "pulling" of your fabric when you are sewing large items or quilts.
98 stitches – The Singer 7469 includes one-step buttonholes and 77 decorative stitches, which are nice for quilts. Not everyone is happy with the

stitch

quality of

this machine

, however. Timing issues (causing stitching problems) can be a problem with this model.
Automatic needle threader – a real time saver.
Drop and sew bobbin system – has automatic bobbin thread pick up, so you don't have to do this manually.
LED light – on the surface, this sounds great, but many owners are reporting that the light is too dim, and an external light is required to sew.
4 quilting feet – nice to have, but not made as sturdily as some.
Portable – The machine weighs 22.8 pounds, making it possible to take it with you to classes or quilting bees. This is a little heavier than some machines and might be too heavy for some people.
Speed – 650 stitches per minute. This is pretty fast, but not fast enough for many experienced quilters.
13 needle positions – gives you versatility, especially for quilters.
Darning/embroidery foot – good for stippling, which is free-hand stitching in curving lines that swirl around but don't touch each other. It's often used on quilts.
While there are a number of possible issues with this model, it also has some very nice features. Perhaps it is best suited for a sewer who will use it lightly, as opposed to one who will give it lots of use, on a daily basis.
Learn more about the Singer 7469  at SINGER 7469Q
.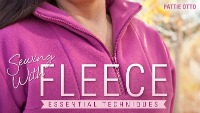 Sew with Fleece the EASY Way!
Don't you just love fleece! It's so soft and comfy. But, its softness and stretch sometimes make it a bit difficult to sew. Well, you can relax. This video course takes the mystery out of sewing with fleece and reveals the secrets of how to do it right. You'll love the new projects that you make! Sign up now for this great fleece sewing video course.
Other quilting sewing machines that you might like: