The Singer 7258 Stylist provides computerized sewing with lots of handy features for a fraction of the cost of high end machines.
With all the versatility of many high priced machines, this model is perfect for the intermediate or advanced sewer who wants to make clothing, crafts, quilts or home décor.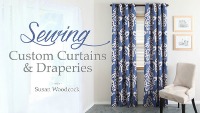 Get Your Custom Curtains and Drapes Video Course Now
Why would you want to make your own curtains or drapes? For starters, you can choose the fabrics for your curtains, to complement your furnishings and the theme of your room. Your curtains and drapes will be well made and will hang nicely. And, last but not least, you will have high quality window dressings for the fraction of the cost of custom made window furnishings. This video course tells you how…
And the Stylist can go where you go, as it weighs only 19 pounds. Take it to classes, on vacation or outside on the patio or porch, while you sew.
The Singer 7258 is a step above the popular Singer 7256 Fashion Mate. And for many who sew, this machine has all the features that you will ever need.
The Singer 7258 Stylist
is available with Free Shipping, from Amazon.
Singer 7258
Computerized Sewing on a Budget
So what makes the Singer 7258 sewing machine stand out from the crowd? Value. You get a lot of function for your money.
Here are some of the features that are included in the Singer 7258:
100 stitches – There are 9 basic utility stitches, 6 automatic buttonhole styles, 8 stretch stitches and 76 decorative stitches. The manual explains how to use them, so it doesn't feel overwhelming.

Instructional DVD

– Many people learn better when they see how things are done. The DVD will help you understand what the manual is saying…
Automatic needle threader – This is a time saver, especially if it's tough to see the needle's eye or your hand-eye coordination is a bit rusty.
One step buttonholes – If you make anything with buttonholes, a one step process gives you a better result. And it's a lot easier than a 4 step buttonhole.
Up/down needle – You can program your needle to end up or down. If you quilt, this is a nice feature that saves time and effort.
Auto tie-off and auto reverse – This is to secure your thread

at the end

of a seam, making sure it doesn't unravel. I can't tell you how many little knots I've tied by hand, in my lifetime, to keep my seams intact!
Electric start and stop – May take some time to get used to this, but it's a real time saver.
Speed – 750 stitches per minute. Very nice if you do lots of long, straight seams or you are a quilter. Not so important if you do small projects like baby clothes or dolls.
Overall the Singer 7258 Stylist gives you good value for a reasonable price. While it is a computerized sewing machine with a learning curve for beginners, it is still a good choice, as there are many features that you will love as you become more accomplished.
If your dreams include embroidery, however, this machine falls short. You can play with the decorative stitches, but you will not be able to do embroidery projects on the Singer 7258.
Get Your Plus Size Video Course Now
Buying plus size clothing that fits well and is comfortable and is flattering can be a challenge. The good news is that this Plus Size video course will show you how to make clothing that flatters you and is stylish. The instructor, Barbara Deckert, is a skilled custom dressmaker and a large woman herself. Barbara teaches this video course with humor and compassion, and she'll help you dress fashionably and with greater confidence. Sign up now for this excellent video course on making plus size clothing…
More computerized sewing machine reviews: