For Crafts or a Craft Business
The Singer 4411 HD (heavy duty) is a sewing machine that was designed to withstand heavy use, while zipping along at 1100 stitches per minute and delivering quality stitching.
In addition, the Singer 4411 sewing machine is just 15 ½ inches long and only 15 pounds, allowing you to take it with you, wherever you go!
Now you can make Log Cabin Quilts–Fast and Easy!
This video course will have you making your first log cabin quilt in short time! Author and designer Nancy Smith will show you, in 7 fun video sessions, just how to get started. You'll also be able to make a number of variations of the every popular log cabin quilt. Don't miss out! Get started on this video course now…
That's the perfect formula for doing crafts or having a craft business. In either case, if you have a strong reliable sewing machine, there's no reason to buy an expensive top of the line machine that has bells and whistles that you will never use.
You simply need a sewing machine that will handle the wear and tear of daily use—one that will not let you down!
The Singer 4411 HD
(available at Amazon with Free Shipping),
can be used commercially.
Learn how to start your own Craft Business!
The Singer 4411 is Perfect for Crafts!
When I had a craft business a few years ago, I literally wore out more than one sewing machine. Making dozens of dolls, teddy bears and home décor items at a time can take its toll on a machine.
And when it does, replacing your machine with an expensive model really cuts into your profits. Why not purchase an inexpensive model that can get the job done? I would have loved to have this hard working model, when I was in business.
And here are some of the reasons why…
High speed – This baby hums along at 1100 stitches per minute. That's as fast as my current Janome, for which I paid well over $1000.
Strong motor – The powerful motor on the Singer 4411 is 60% stronger than a regular sewing machine. The machine is rated Commercial and the warranty covers both household and commercial use.

Metal frame

– While the outside is plastic, the important parts inside are metal, making the machine solid and strong.
Free arm – I like this feature for sewing little things like doll clothes, teddy bears, dolls, and children's clothing. Of course you can also use the free arm to hem sleeves and pants and sew collars.
Portable – The Singer 4411 HD weighs just 15 pounds, making it easy to carry with you to craft shows. Use the machine to demonstrate your skills or catch up on your sewing if there is a lull in the traffic to your booth. Take it from room to room at home (or outside on your porch or deck) if the weather is nice!
Snap on presser feet – This is a real time saver, and if you're sewing

all the time

, a few minutes here and there start to add up…
Simple dials – to select type of stitch and stitch length, quickly.
See through bobbin cover – When you are sewing all day long, you go through a lot of bobbins. A quick glance at the see-through bobbin cover will

tell you

if you are running out of thread.  Before you complete a seam and have to redo it because you ran out of bobbin thread. If you have extra bobbins loaded and ready to go, it only takes seconds to reload the bobbin, and continue sewing.
While the Singer 4411 does not have a lot of fancy stitches, and it can't embroider, it does give you good value for the money, and it will work hard for you for a long time.
The price is very reasonable, making this model attractive for the home sewer who enjoys crafts or does occasional sewing, or the full-time crafter who attends craft shows, does home parties or wholesales or consigns their crafts.
Buy the Singer 4411
at Amazon and get Free Shipping.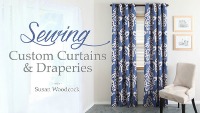 Get Your Custom Curtains and Drapes Video Course Now
Why would you want to make your own curtains or drapes? For starters, you can choose the fabrics for your curtains, to complement your furnishings and the theme of your room. Your curtains and drapes will be well made and will hang nicely. And, last but not least, you will have high quality window dressings for the fraction of the cost of custom made window furnishings. This video course tells you how…
Some more heavy duty sewing machines: