Limited Edition Anniversary Model
The Singer 160 is a limited edition anniversary sewing machine, celebrating Singer's 160th anniversary. The Singer 160, while it looks like the old Featherweight Singer sewing machines, has been completely modernized and is computerized with tons of great features.
While it is a collectible, this model is made of black plastic instead of the traditional metal. It is larger than many Singer machines, but it's also portable, weighing less than 25 pounds.
Get Your Video Course on Making Jelly Roll Quilts
Isn't it great that you can buy precut fabrics for making quilts? But, sometimes it's hard to get motivated, because you just don't know what to do with the fabric you just bought! Kimberly Einmo to the rescue! Kimberly will show you in this suberb video course, how to make a number of really cool quilts, using jelly rolls. She'll also show you how to do invisible and contrasting thread appliques and give you some ideas on how to use those leftover pieces! Sign up now for this fun video course on making jelly roll quilts…
If you love the appearance of old time sewing machines you'll love the nostalgic appeal of the Singer 160 anniversary model. Reflecting the rich history of the Singer sewing machine, it's shaped and colored like your grandmother's machine.
Don't let that fool you, however. This is a computerized sewing machine, complete with some bells and whistles that experienced sewers will appreciate.
The SINGER 160
(photo Amazon) has a classic style
but modern computerized features.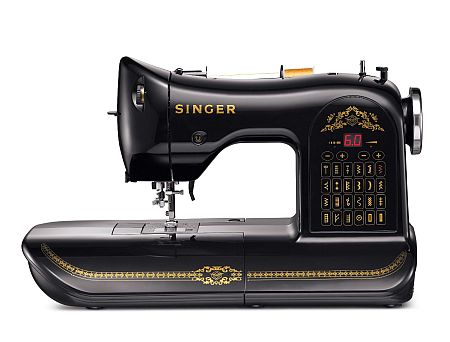 Singer 160
Antique Look, Computerized Machine
While collectors and romantics love the look of the Singer 160 sewing machine, there's a lot more to love when you realize what Singer has included:
24 built-in stitches, with the option to personalize them. You can easily select the stitch that you want, and with the push of a button, you're set to sew.
One step

buttonholer

Swiftsmart Threading System – This is unbelievably easy! You'll appreciate this feature if you, like me, spent hours (over the years) threading and re-threading your machine. You just take the thread from the spool to the needle area by putting it in ONE groove and then you thread the needle by pressing a lever.
Drop feed – You can disengage the feed so that you can freehand quilt, mend or embroider freehand.
Large sewing area – While some may not like this feature because it makes the machine larger, quilters love the arm that reaches almost 15". And it's nice for general sewing of larger items, as well.
25 year warranty – a nice feature that gives you confidence in the product.
Is the Singer 160 a perfect sewing machine? No it isn't. Some people object to the fact that it's plastic. And others, who may have sewn on a more expensive machine, are disappointed that there is no Up/Down button for the needle.
All in all, the Singer 160 is more than just another pretty face. Despite its antique appearance, it has some very nice features that make it a fine machine for most sewers, no matter what it looks like.  And it actually kind of fun to sew on a Singer sewing machine that looks like it was your great grandmother's!
You can purchase a Singer 160 with confidence (and free shipping) from Amazon
.
Get Your Plus Size Video Course Now
Buying plus size clothing that fits well and is comfortable and is flattering can be a challenge. The good news is that this Plus Size video course will show you how to make clothing that flatters you and is stylish. The instructor, Barbara Deckert, is a skilled custom dressmaker and a large woman herself. Barbara teaches this video course with humor and compassion, and she'll help you dress fashionably and with greater confidence. Sign up now for this excellent video course on making plus size clothing…
You might also like these sewing machines: